****** NOW SUPPLYING KILN DRIED HARDWOOD LOGS IN BULK BAGS******
All of our hardwood logs are kiln dried to ensure they reach you ready to burn. Our logs are sustainably sourced in Scotland and we process and dry the logs on site.
We can now deliver logs bulk bags – an easy, mess free way of getting your logs delivered.  Return the bag and get £1 off next time.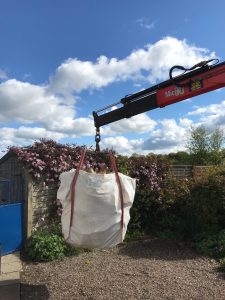 Please note: delivery is included within a 10 mile radius of Coupar Angus, longer distances will incur an additional delivery charge.
Logs can also be uplifted by customers either per bag or in bulk.
Prices as at 1st November 2021:

Load Size
Price
3 large bags of kindling
£15.00 (inc 5% VAT)
Bag of logs (min order for delivery 10 bags)
£6.50 (inc 5% VAT)
Bulk bags (1m3).  Return the bag and get £1 off per bag on next delivery.
£115 / bag (inc 5% VAT)
Half load (approx 2m3)
£200 (inc 5% VAT)
Full load (approx 4m3)
£350 (inc 5% VAT)
Other load sizes available on request, please phone for a price.
Sawdust and woodchippings available on request.